Let us give your project a Rock Solid Foundation!
Bullskin Stone and Lime LLC. has become one of the premier quarries in southwestern Pennsylvania. Our
high quality,

State Approved aggregates, a
new crushing plant,
our
three scale facility and
a pleasant staff provides for a durable stone, quick loading and fast delivery to any Job site.
Start your job off right, start with Bullskin Stone
Ton after ton, we produce the highest quality stone with the most consistent gradations. We maintain our own on-site lab to verify that our aggregates meet the high
Pennsylvania State standards that our customers have come to expect. We are well-equipped to fulfill and distribute orders quickly and efficiently, and because our quarry is located close to major roadways, our customers can control their transportation costs.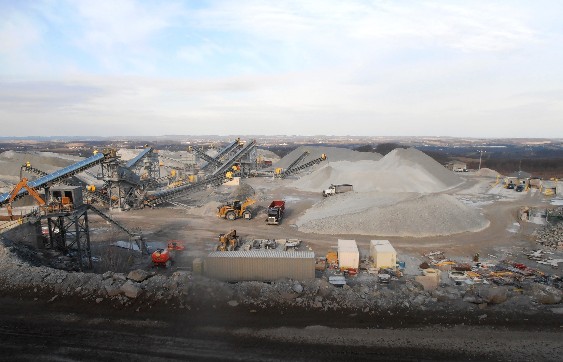 Bullskin Stone and Lime will be open during the Covid-19 outbreak and impact. The safety of our employees, subcontractors, and customers is our number one priority as we remain open. We ask that everyone follow not only the CDC and Local guidelines to stop the spread of the Covid-19 virus but we have also implemented our own safeguards, policies and procedures to eliminate exposure at the quarry. The full letter outlining all Bullskin Stone and Lime's
adjustments to our daily operations to adjust for minimal exposure to Covid-19 is located here.
Actual driver testimony "I know I am going to have a good day when I see Bullskin Stone on my Assignment Sheet." Locally owned, friendly staff, high quality aggregates, great pricing, if you have never been here, come see for yourself what makes us so outstanding.

| | | |
| --- | --- | --- |
| | | |
| We boast a three scales and two computer weigh stations at our Scalehouse. There is no bottleneck of trucks waiting to scale in or out at the quarry. All by design to get our quality aggregates to your jobsite as quickly as possible to be utilized. | Our new crushing plant can produce a tremendous amount of finished aggregates. Our loading pad is large and well maintained. This again allows us to safely load a high volume of trucks daily and get our quality aggregates to your project site in a timely manner. | The onsite lab tests our aggregates daily to ensure that they always meet or exceed the state standards. Quality control is paramount for our certified lab technicians. This gives our customers confidence that they are always receiving high quality aggregates from Bullskin Stone and Lime. |